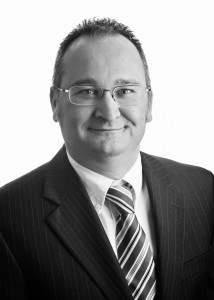 Brad A. Everhardt is one of the newest shareholders at Hill Hill Carter.  Brad joined the firm in 2015 and became a shareholder in December, 2016.  Prior to joining HHC, Brad was a partner at a firm in Toledo, Ohio.  He also served as Law Director for the Town of Fremont, Indiana and represented several other municipalities.  Brad is a former adjunct member of the graduate faculty at the University of Toledo, where he taught a course in civil liability for criminal justice majors. 
Brad graduated from Bowling Green State University in 1998 and received his J.D. from the University of Toledo, College of Law in 2000. While attending law school, Brad was appointed Technical Editor for Law Review and studied comparative law at both the University of Queensland in Brisbane, Australia and the University of Barcelona in Spain.
At Hill Hill Carter, Brad focuses his practice on the defense of governmental entities, commercial and complex litigation, insurance, business law and estate administration.  He is licensed to practice in Alabama, Ohio, Michigan, Indiana and ten federal courts.